Flintheart Glomgold. What an ingenious name! Before even knowing him we know a lot about his character because his name suggests a somewhat shady personage. Carl Barks was quite happy with the name, too. He actually played with it in U$27 The Money Champ in which he was also called Goldflint Heartglom, Flintgold Glomheart, and Heartflint Goldglom! But a name is not enough to make a successful character...
But although he liked the name, Barks never really liked the South-African plutocrat Glomgold. He was developed to be a totally villainous opponent to humiliate and frustrate Scrooge - just as Barks created Gladstone to have a character to torment Donald. As such he does not have the same appeal and redeeming features that his other characters possess. Barks' frustration over having invented Glomgold becomes apparent by the simple fact that he only used him in 3 stories, and never in either one-pagers or front covers.
However, Glomgold has since been used frequently by other comic book artists, and he was also a recurring character in the popular Disney TV-series Ducktales. So it is safe to say that he is here to stay...
THE APPEARANCE
Glomgold's appearance did not change at all in the 3 stories, although they were drawn in a timespan of 10 years. Barks portrayed him as a duck not unlike Scrooge with pince-nez, walking stick, and clearly uninterested in fashion. However, he differs greatly from Scrooge in character; Glomgold is a much darker version of Scrooge.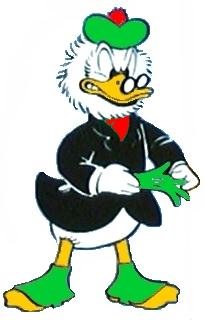 THE CONTESTANTS
Scrooge has to deal with many adversaries. But Glomgold can be considered Scrooge's arch-nemesis. He proved a worthy, though unscrupulous, opponent who sought the title of the world's richest duck.
This listing is by no means an attempt to pass judgement over the two rivals. It is merely a comparaison of their similarities and differences.
SCROOGE
GLOMGOLD
Address:
Duckburg , USA
Address:
Limpopo Valley, South Africa
Living quarters:
His Money Bin
Living quarters:
His Money Bin
Status:
The world's richest duck
Status:
The world's second richest duck
Wealth:
Scrooge's main sources of wealth are his numerous industries
Wealth:
Glomgold's main sources of wealth are his diamond and gold mines
Worth:
1 multiplujillion, 9 obsquatumatillion, 623 dollars and 62 cents - and one ball of string
Worth:
1 multiplujillion, 9 obsquatumatillion, 623 dollars and 62 cents - and one ball of string (slightly smaller)
Sociability:
Surrounded by a large, helpful family
Sociability:
Secluded, solitary, works alone
Personality:
Strong whatever the ordeals
Personality:
Insecure about his own worth
Demeanour:
Righteous, honest, miserly, competitive, hard
Demeanour:
Criminal, dishonest, miserly, competitive, ruthless
Appearance:
Top hat, coat, spats, cane, pince-nez (without frames), whiskers
Appearance:
Soft hat with pompom, jacket, spats, stick, pince-nez (with frames), beard
Hobby:
Swimming in money
Hobby:
Bathing in money
THE STORIES

1956
U$15 The Second Richest Duck
Synopsis: Scrooge gets into a fierce contest with Glomgold to see who is the world's richest duck. At the end it all comes down to two balls of string.
Analysis: The story concentrates on comparing and contrasting the two rivals. They are extremely competitive and cannot accept that the opponent might be superior.

1959
U$27 The Money Champ
Synopsis: Glomgold challenges Scrooge to a competition - who is the richest duck in the world? Most of their valuables will have to be cashed and counted.
Analysis: The plot is the same as in the first story, but now Barks portrays Glomgold as a much darker and sinister opponent who is endlessly cheating and playing dirty.

1966
U$61 So Far No Safari
Synopsis: Scrooge hires Donald and the nephews to accompany him to Africa in order to buy a gold mine at an auction. Glomgold is also very interested.
Analysis: The basic story is about the use of the nephews' animal call whistles while travelling through Africa. Glomgold is reduced to being a supporting - but still villainous - character.
---
| | | |
| --- | --- | --- |
| http://www.cbarks.dk/THEOPPONENT.htm | | Date 2004-03-02 |