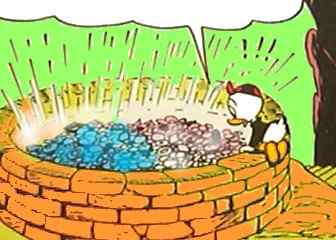 U$07 'The Seven Cities of Cibola'
Synopsis:
Scrooge lacks excitement in his life so he follows Donald and the nephews to the desert in order to collect arrowheads. They also find seven golden cities...
Comments:
The ducks' findings constitute one of the greatest feat in the history of archaeology, as they find numerous large stone tubs filled with sorted, priceless gems such as diamonds, opals, sapphires, rubies, and emeralds - but they have to leave in a hurry with nothing!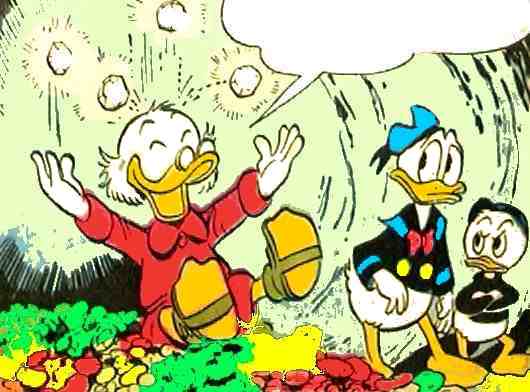 U$19 The Mines of King Solomon
Synopsis:
While on an inspection tour to 1,200 places in 69 countries Scrooge and his nephews discover the mines of King Solomon...
Comments:
Everybody has heard of King Solomon's immensely rich mines, many have tried to find them, but the ducks succeed! This was also true in U$55 McDuck of Arabia, in which they found the fabulously rich mines of the Queen of Sheba. But the ducks did not get to keep any of the treasures in these stories...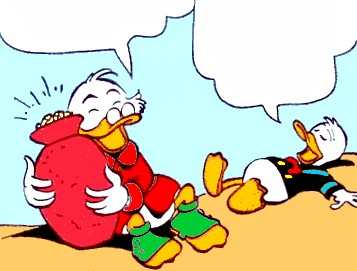 U$37 Cave of Ali Baba
Synopsis:
Scrooge travels with Donald and the nephews to inspect his oil wells. Before long they find themselves in the cave of some giant birds...
Comments:
Things seemingly brightens up a bit, when Scrooge succeeds in bringing out some valuables from the cave of Ali Baba - but, it turns out to be a dream! Still, Barks allows Scrooge to save some valuables from Aladdin's cave in his last treasure hunt story, U$50 Rug Riders in the Sky...