If you are a fairly well known figure in your local community you are likely to be invited to attend certain events or asked to work on certain public projects. Such undertakings have a snowball effect meaning that if you are first spotted you become more and more in demand by different groups of the local society.
Garé and Carl Barks were such a couple while living in - and in the vicinity of - the small town of Hemet, California, between 1942 and 1969. Garé was the most famous, being a successful landscape painter in the community, while nobody knew that her husband's income derived from drawing duck stories for Disney! Still, he participated in diverse social events throughout the years. One of the recurring ones was the annual beauty contests, in which he acted as a judge! This page presents you to two of these events.
1950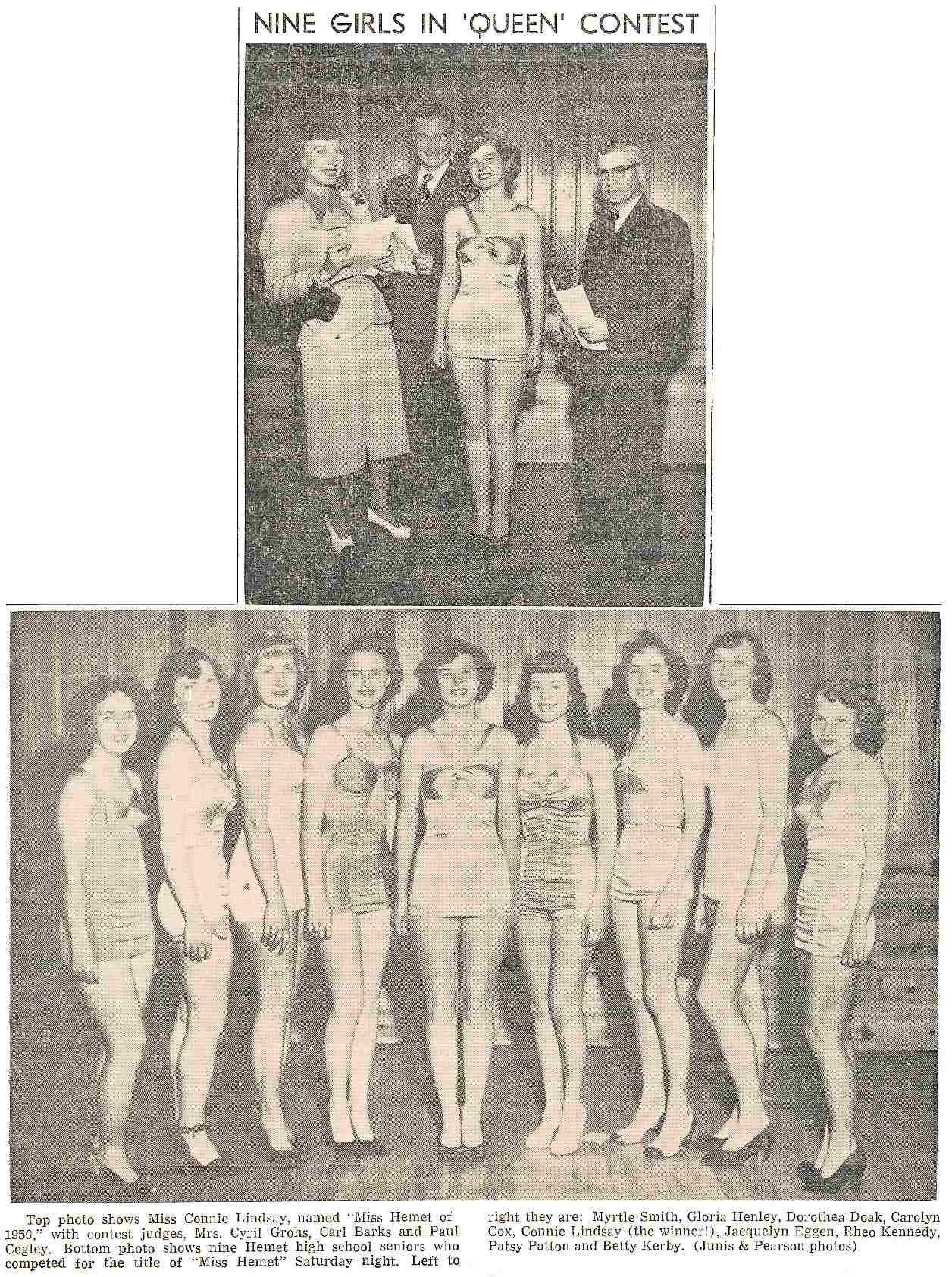 This is part of a newspaper clipping from the 1950 beauty contest. Barks is standing in the background in the upper photo with the winner, 17-year old Miss Connie Lindsay, who became the new Miss Hemet. Barks was one of three judges and the 9 contestants were judged on their appearance in street clothes and bathing suits.
Flanking the photos was a lengthy article, in which Miss Lindsay was interviewed. Among others she stated that she was still attending high school, she had no plans of marrying, her hobbies were knitting and sewing, and her measurements were 34-24-36 inches...
1969
We jump to 1969, which was the last year Barks was a judge at a beauty contest (later that year the couple moved from the Hemet area). The year proved to be rather signicant for Barks because he met a man who became the Barks couple's personal friend - and Barks' professional friend as well. The man was George Sherman from the Walt Disney Productions. Below are presented Sherman's first and last of several correspondence letters with connections to the contest.
On Barks' recommendation Sherman became a beauty queen judge alongside Barks, and above you are presented to his 'letter of introduction', in which he offered a brief resume of himself.
After the contest Sherman wrote a letter of gratitude to the arranger of that year's contest and he sent Barks a copy with a personal handwritten note stating that he hoped to see him again soon.
Now then, how did Sherman fit into Barks' life and what made him so important to his professional career? Well, as a matter of fact Sherman's influence on Barks' professional life cannot be overestimated, because two years later he was the person who granted Barks the unique permission to paint the Disney ducks! With that simple gesture he sent Barks' career skyrocketing for the rest of his life!!! And it all started with a beauty contest...
---
| | | |
| --- | --- | --- |
| http://www.cbarks.dk/THEBEAUTYCONTESTS.htm | | Date 2011-05-28 |