Peggy Phyllis (1923-1963) was Carl Barks' firstborn daughter. During the last few years of her short life she corresponded with her father through mail (they lived far apart in different states) supplying him with ideas for his comic book stories. Some of them were accepted and used (see more HERE), while others were just filed away (see more HERE).
This website owns many of Barks' personal files - some of which have not even been properly registered yet - and now an interesting letter from Peggy to her father has surfaced. It holds several story suggestions plus one synopsis for a story. The latter is especially interesting, because Barks immediately used Peggy's short synopsis for one of his most famous and best liked stories. Peggy's involvement in the story has never been revealed before! Below you are treated to some of the proceedings around the story.
'As is' transcript:

Don's nephews are learning about
fruit trees in school. Don bets them
he can raise a better crop of apples. They
divide the trees. Don doesn't know a
thing about trees so he consults a local
fruit expert who tells him to get bees for
pollinating or else try shot gun pollinating.
Don tries the shot gun method + a wind
arrives at same moment and blows the
pollen on the nephews trees. He then
gets the bees + makes bees walk thru the
pollen back. The only trouble is Don
figures if a little pollen on their legs +
wings is good, more is better so makes
their run way longer. The bees are so
heavy with pollen they can't make it to
Don's trees + land on the nephews trees.

(Don has tied sugary flowers all over his
fruit trees in big boguets to entice bees away
from nephews trees.)
.
This is the top part of a lengthy letter containing the story in question. A transcript is supplied to the right. Two comments: 1. Unfortunately, Peggy always used a pencil on substandard paper sheets, which have aged very poorly. This is why the copy is not as clear as it could have been, and 2. her father has written in red crayon Paid July 30, 1956 across the sheet, thus acknowledging his daughter's idea.
The resulting story is WDCS205 'Apple Dabble', in which Donald longs to win a prize for his apples at the county fair and he is nursing them all summer long. Of course, Barks extended and developed his daughter's synopsis with more gags, but the link to the synopsis is still quite apparent. The greatest alteration done was that Barks replaced the nephews with Gladstone Gander.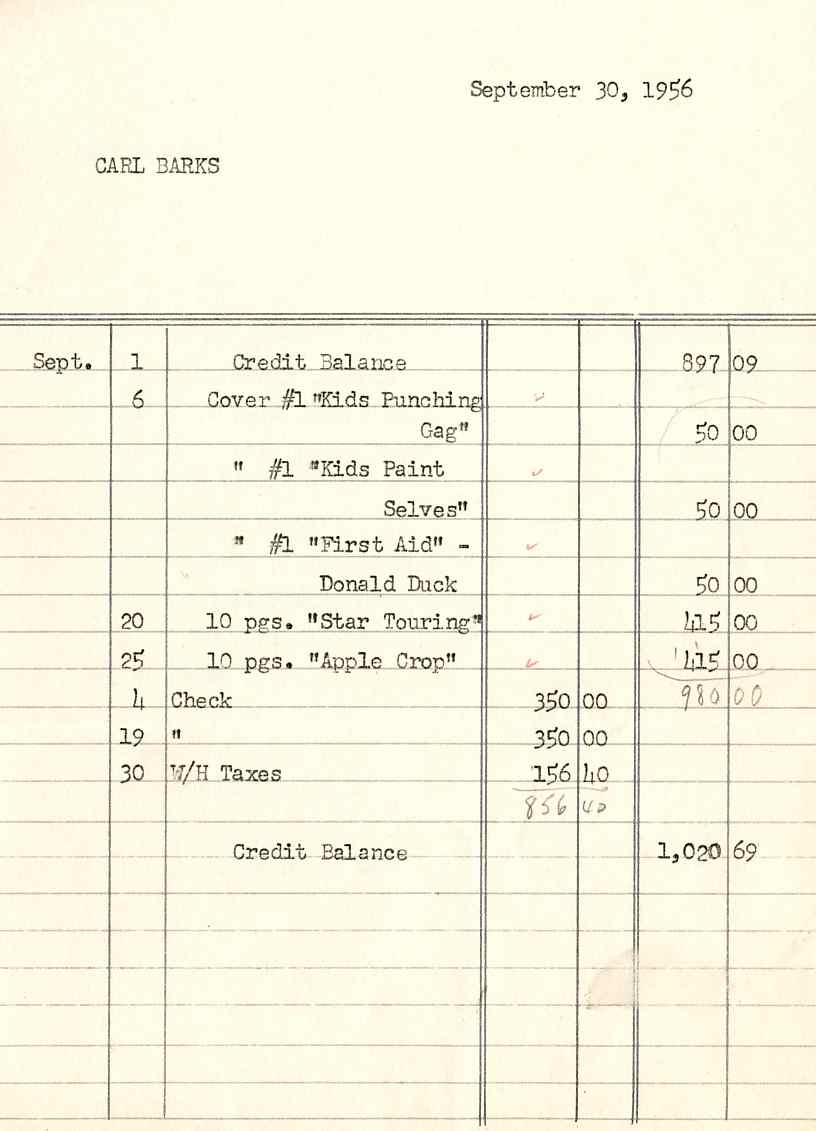 There can be little doubt that Barks was all fired up over the synopsis and its potential, because he soon began working on the story. Above you can see the relevant payment sheet from Western Publishing revealing that Barks finished and delivered the story, briefly titled Apple Crop by Western, within two months!
---
| | | |
| --- | --- | --- |
| http://www.cbarks.dk/THEDAUGHTERSCONTRIBUTION.htm | | Date 2011-07-01 |