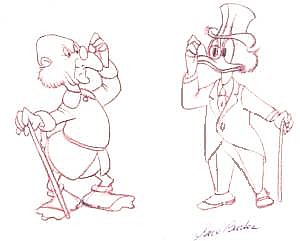 Personal economics
Barks knew from childhood what it meant to be low on funds, and that knowledge stayed with him throughout his entire life. He was born on a windswept farm that could hardly feed the family, and they had to move around several times in his youth in order to make a living. Later on, he would receive no more than an average worker's pay in salary when he created his stories, but he experienced some setbacks during that meager time; his painful divorce from his second wife, Clara, cost him everything he owned at the time.
Barks would later comment on his attitude about economics: I never collected coins. Nor did I collect stamps or whisky bottles or comic books. Just thinking up troubles that could beset Uncle Scrooge because of his coin collection scared me into a lifestyle of financial fritterbugging.
When, finally, Barks' luck changed and he began earning big money on his paintings he never became extravagant with his personal economics although he could well have afforded to. His third wife, Garé, once compared her husband to Scrooge: Oh, yes, Carl's thrifty like Scrooge. He never spends unwisely or changes things. He pays for them in cash, like Scrooge, so that he never pays any interest that he doesn't have to. What are you getting so damned tightwad about? Get out and spend your money!
Still, the fear of not being able to make ends meet was deeply embedded in him...