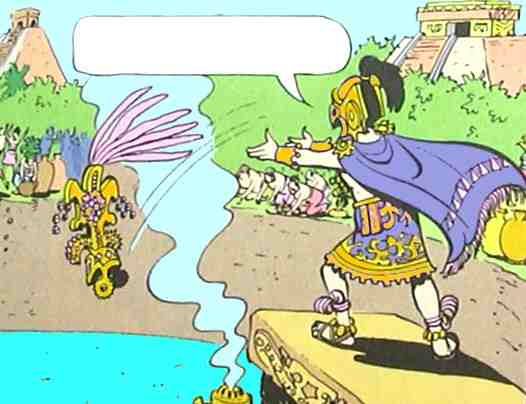 Mayan:
In U$44 Crown of the Mayas Barks starts the story with a small historic prologue about the Mayan's ancient religion.

Egyptian:
In FC0029 The Mummy's Ring the ducks travel to Egypt where they encounter a cult worshipping the ancient Egyptian religion.. Two servants carry masks depicting Anubis, the jackal headed God of Death.

Islamic:
Allah is mentioned in U$55 McDuck of Arabia.

Nordic:
In U$34 Mythic Mystery we are presented to Odin, the leader of the Gods, Thor, the Storm God, Balder, the God of Light, and Frigga, the wife of Odin.

Hindu:
Vishnu, the Preserver, is mentioned in U$24 The Twenty-Four Carat Moon.

Native North American:
Manitou, the Great Spirit, is mentioned in WDCS202 'The Weather Hole'.

Greek:
Zeus, the leader of the Gods is mentioned in U$43 For Old Dime's Sake, and Hera, the wife of Zeus, Athena, the Goddess of Wisdom, and Aphrodite, the Goddess of Love, are seen in U$34 Mythic Mystery.

Roman:
Jupiter, the leader of the Gods, Juno, the wife of Jupiter, Vulcan, the God of Fire, Venus, the Goddess of Love, and Diana, the Goddess of the Moon, are seen in U$34 Mythic Mystery.

Christian:
Although Barks was a Christian he made few references to his own religion in the stories except for a few stories about Christian holidays (Christmas, Easter, Valentine's Day), but these stories did not have the religious themes as the trigger. One isolated religious reference to Christianity comes from U$10 The Fabulous Philosopher's Stone in which Scrooge is following a lead on the Knights Templar from one of the European crusades to the holy land.