THE CARTOONS
When Barks started to work in the Disney Studios in 1935 he spent the first few years in the animation division. At the time Walt Disney was heavily engaged in producing both animated shorts and long feature films, and Barks was given different assignments in the process starting as inbetweener and ending as story director.

1936
Through the Mirror

1936
Alpine Climbers

1936
The Love Nest

1936
Desert Prospectors

1936
Northwest Mounted

1938
Yukon Donald*

1938
Tanglefoot

1939
Donald's Stratosphere Flight*

1940
Bone Trouble

1940
Put-Put Troubles

1940
Window Cleaners

1942
The Army Mascot

Many of the cartoons that Barks worked on took place in the mouse universe. Here is a short outline - chronologically - of those cartoons. You should be aware that many of the cartoons mentioned above were never completed. If you wish to learn more detailed about Barks' contribution to the individual animated shorts you can go HERE.
* The cartoon script was originally based on Mickey as the main character.
It is next to impossible to find Barks' sketches from his cartoon days because most of them were just loose, temporary sketches and consequently not archived. The two surviving sketches from 1936 presented here (some sort of half-hearted modelsheets of Mickey) are real rarities, especially because they were also signed by Barks himself!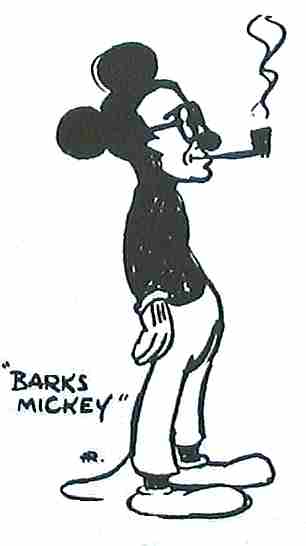 Barks' colleagues in the cartoon department - and later in the story department - used some of their time caricaturing each other. This is an unknown artist's rendering of - the then pipe smoking - Barks. You can see more examples HERE.
---
| | | |
| --- | --- | --- |
| http://www.cbarks.dk/themouseuniversecartoons.htm | | Date 2005-08-14 |