Carl Barks was always generous when inventing suitable, plausible, or hilarious names for the numerous towns he drew in his Disney duck stories (see more HERE under The Register/Locations), and he normally just used them once. But one town was mentioned more times, and it has since been subject to fan scrutiny in several countries, foremost because Barks did not divulge that much information about the town. In fact, he only mentioned it in 5 stories. This is the story of Duckburg's mystical neighbouring town. Goosetown.
LOCATION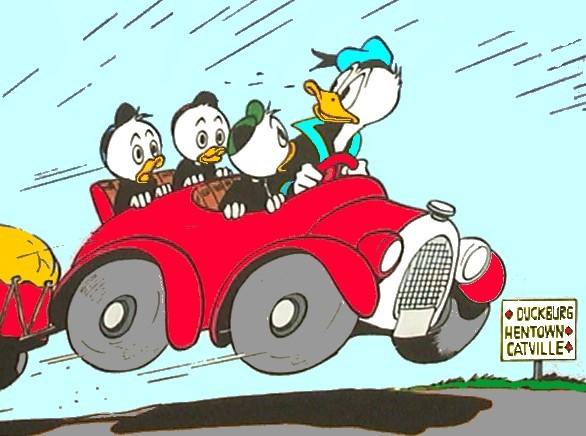 DD45
Usually Duckburg is perceived as the capital of the state of Calisota, and we know of several towns in the vicinity as mentioned by Barks. A few examples are Quackville (WDCS042 (possibly a forerunner to Duckburg that was first mentioned in WDCS049)), Pumpkinburg (WDCS054), Pickleburg (WDCS072), Codfish Cove (WDCS114), Omelet (WDCS146), and - Goosetown*.
We do not know where neither Goosetown nor any of the other cities are located, but assuming that Duckburg with its harbour lies on the west coast, it is a fair assumption that they are strewn about the north, east, and south.
According to the road sign in the opening panel of DD45 Hentown and Catville are situated near Duckburg making it perceivable that Goosetown lies somewhere in the opposite direction.
* Nowadays it is commonly accepted that the members of Disney's mouse world are also living in Calisota in a city referred to as Mouseton/Mousetown (formerly Hometown and Mouseville).
STORIES
WDCS117 'Disastrous Picnic' - 1950

The Ducks and Daisy participate in the annual Duckburg Wildflower Club in the nearby hills, when panick breaks out; the dam has broken caused by 'big cloudburst in the hills above Goosetown'. Soon the area is flooded and the picnic is ruined.
U$32 'Clothes Make the Duck' - 1961

In a frantic attempt to escape the well-meaning ladies from the High Society Club who seek to dress up a hobo for their charity, Scrooge tries to escape their persistant pursuit to raise some money. He does so by boarding the coal train between Duckburg and Goosetown as a stowaway.
WDCS269 A Matter of Factory - 1963

Donald has become manager of Dreamland motel, when he hears that a King Oscar are going to pay Duckburg an official visit. The motel is soon dubbed King's Inn in order to accomodate the royal guest, who arrives by commuter bus from Goosetown - and turns out to just be King of the Hoboes.
WDCS282 Bubbleweight Champ - 1964

Duckburg burrow of the Junior Woodchucks of the world is vying with the Goosetown burrow for points in a great international physical fitness program. In the end it comes down to a boxing match between the two burrows' champions, Boldan True from Goosetown - and Donald Duck from Duckburg...
WDCS286 Olympic Torch Bearer - 1964

Donald has been chosen to carry the Olympic torch to Duckburg, so he goes to the seemingly large city of Goosetown to pick it up. After a ceremony he starts the prestigious run, but several mishaps cause him to set fire to almost anything on his way. When he finally reaches Duckburg the successor is met with a distinguished torch.
LANGUAGES
Goosetown is internationally known as can be seen from these few translations:
| | |
| --- | --- |
| Danish | Gåserød |
| Dutch | Ganzenstad |
| English | Goosetown |
| Finnish | Hanhivaara |
| German | Gänseburg |
| Italian | Ocopoli |
| Norwegian | Gåseby |
| Portuguese | Gansópolis |
| Swedish | Gåseborg |
---
| | | |
| --- | --- | --- |
| http://www.cbarks.dk/THENEIGHBOURINGTOWN.htm | | Date 2013-07-12 |