IN UNCLE WALT'S COLLECTERY
Commenting on the title of 128/1984 In Uncle Walt's Collectery Barks once said: I know there's no such word as Collectery, but it needs to be invented!!! Indeed! The word is probably a blending of Collection and Treasury and it describes eminently what Barks wanted to express namely some sort of collector's archives or museum. Judging from the title the scene is set somewhere inside the Disney Company, in which numerous artifacts and collectibles are stored.
Barks kept very close to reality in his presentation of the objects. All of the collectibles are taken from real life, and most of them go back to the 1930s and 1940s. It was an extremely demanding task containing great details that Barks had taken on, which he also later acknowledged: I almost bit off too big a job in this complicated diorama of disorganized Disneyana.
Already in 1972 Barks had made a painting featuring different Disneyana. In 72-14 Reading the Scandal Sheet (A) the ducks are reading comic books - in which they are the primary characters - and wind-up toys of Mickey Mouse and Pluto are seen as well. In 1983 Barks made three idea sketches of which two are shown here (B and C). They received the working title Which Disney Themepark Is This?, and here he focussed on many real collectibles. The initial idea was that the ensuing painting should embellish the front cover of a new book on Disneyana, but it never happened. Barks then decided to move the distinct Terrie Fermie location (from U$13 Land Beneath the Ground) to the Disney archives. One of Barks' many idea sketches is shown last (D).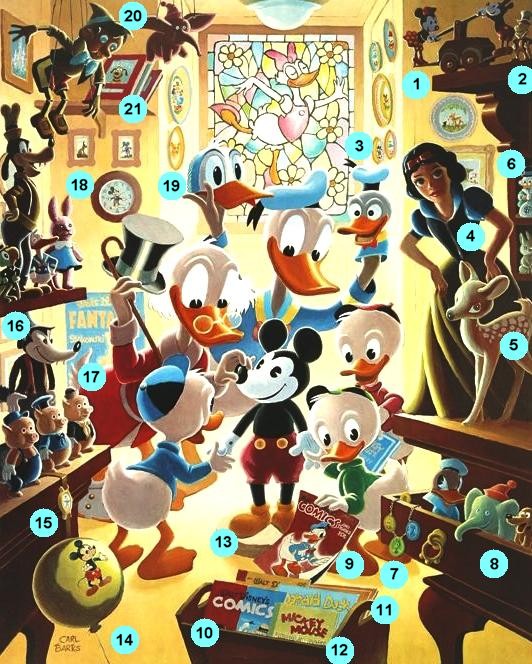 1
Mickey Mouse wind-up hand-car 1934.
Lionel Corporation

2
Jiminy Cricket ceramic figure.
American Pottery Manufacturing Company

3
Donald Duck plush hand puppet
x

4
Snow White large ceramic figure 1942.
American Pottery Manufacturing Company

5
Bambi medium sized ceramic figure 1946.
Evan K. Shaw Company

6
Scrooge money-box
x

7
Disney character bottle cap necklace
x

8
Donald, Dumbo, Pluto small ceramic figures.
Evan K. Shaw Company

9
WDCS001 1940.
Western Publishing Company

10
WDCS031 1943. Featuring Barks' first 10-pager.
Western Publishing Company

11
FC0009 Donald Duck Finds Pirate Gold 1942.
Western Publishing Company

12
Mickey Mouse Waddle Book 1942.
Western Publishing Company

13
Mickey Mouse porcelain figurine
x
14
Mickey Mouse balloon *
x

15
Donald Duck wrist watch.
Ingersoll

16
Disney rubber characters.
Seiberling Latex Company

17
Fantasia film poster 1940.
Walt Disney Studios

18
Mickey Mouse wall clock
x

19
Donald Duck bill cap
x

20
Pinocchio and Dumbo marionettes
x

21
Pluto the Pup story book 1938.
Western Publishing Company
* Anachronism: A rubber balloon from the 1930s/1940s would have long perished by 1984!
---
| | | |
| --- | --- | --- |
| http://www.cbarks.dk/thepaintingdetails3.htm | | Date 2008-04-09 |