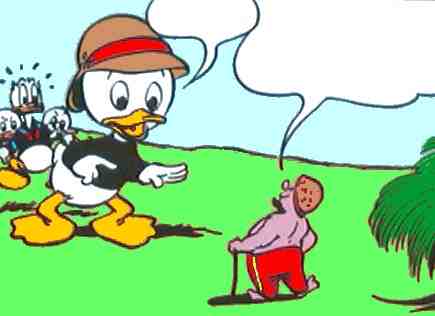 FC0238 Voodoo Hoodoo - 1949
Synopsis:
An old zombie confuses Donald with Scrooge as he delivers a curse from his witch doctor. Donald and the nephews travel to Africa to get free of the curse.
Comments:
In some stories the professors are merely used as 'fillers', because they are not really contributing to the main plot. In this one the shrunken professor Cornelius McCobb, Dean of Mystic Lore at the University of Ypsilanti, just verifies a medicine man's curse potential.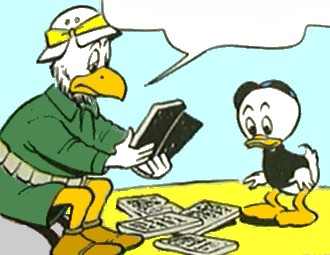 U$37 Cave of Ali Baba - 1962
Synopsis:
Scrooge travels with Donald and the nephews to inspect his oil wells. Before long they find themselves in the cave of some giant birds...
Comments:
Professor Dustdiver of The Royal Archaeological Society suddenly pops up from nowhere carrying some ancient tablets revealing the whereabouts of great riches. He does not even have to translate the writings; the ducks can read them by themselves!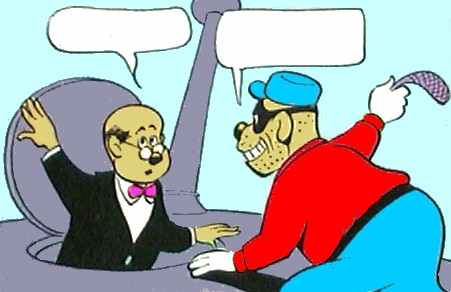 U$58 The Giant Robot Robbers - 1965
Synopsis:
Duckburg has invested in giant robots that can do many chores. The Beagle Boys commandeer them to open the Money Bin...
Comments:
The gentle, cultured Domewise, a man of noble intentions and impeccable honor (all according to Barks) has invented a number of giant robots, of which he manoeuvres one. He is present in just two panels, before he succumbs to the Beagle Boys' criminal plans.