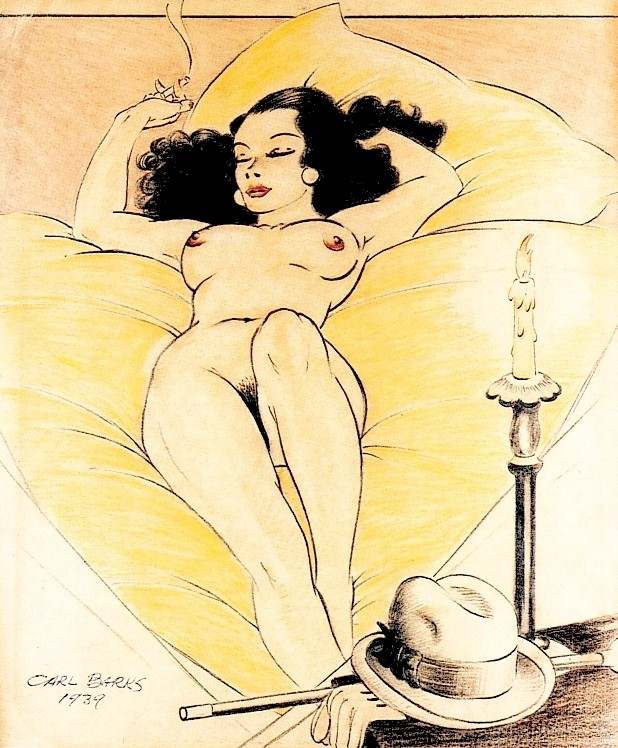 At first glance the motif seems pretty straightforward: A naked woman lies in a bed and a man is probably lurking somewhere outside the scene. But if you take time to study the apparently very simple scene you will have a lot of questions, most of which cannot be answered. Here are some examples:
The girl: Is she a prostitute 'recovering' from sex? Probably not, because she is resting comfortably with a satisfied expression on her face. A lady of the night would not be that un-businesslike! Is she the man's wife? Certainly not, the man's outdoor clothing proves he is just a visitor. Can she be the man's recurrent Wednesday fling? Not likely, as that sort of get-togethers normally takes place during the daylight hours, in which case a lit candle to brighten up the room is not probable. Well then, can the rendezvous be the result of a chance meeting? Maybe.
The man: The few expensive looking clothing items strongly indicate that he is well off and possibly from the upper classes. But where is he? Well, he has not gone to get cigarettes, because a man of his breeding would have these things in order in beforehand, and the girl is already smoking. Still, there is something unappealing about him, because he has left his joy in the middle of the afterglow, if only for a brief moment. Not a gentlemanly thing to do.
The location: Most viewers would probably first think of a hotel room, but that option can be ruled out quickly; a double-bed (which it seems to be) does not just carry one very large pillow, and no hotels allow lit candles for simple security reasons. Well then, the man's residence is also ruled out because of the presence of his 'walking gear'. So the most logical place must be the girl's residence. Chances are that she is not married (to another man), because she seems to have all the time in the world, and such a secretive and potentially dangerous and damaging situation would probably not find her in this relaxed position. So, she is probably an unattached girl enjoying some quality time.
See? This seemingly uneventful 'still-life' construction does, in fact, pack a lot of underlying action as well as many unanswered questions - that will remain unanswered...