The somewhat cryptic title is explained as an extension of an existing page named The Interlude (see HERE), in which Carl Barks was requested by his employer, Western Publishing, to make a series of stories starring other funny animals than his usual ducks. This took place on and off from 1943 to 1947 and most of the stories featured Benny Burro and Barney Bear.
Barks knew none of the characters beforehand, so he was sent a few modelsheets in order to get their graphic appearances right. The modelsheets came from 4 planned Metro-Goldwyn-Mayer cartoons all directed by Rudolf Ising.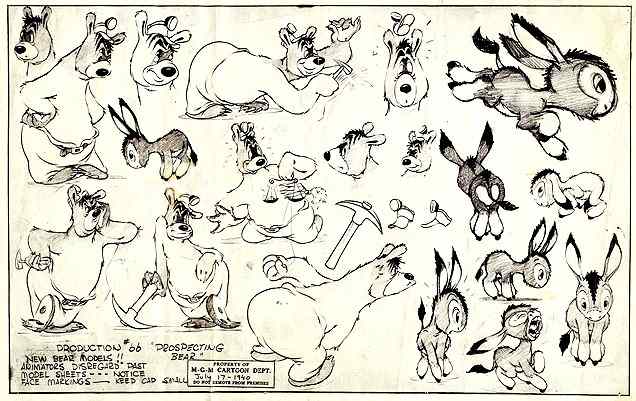 The Prospecting Bear
1941
Runtime: 9 minutes
Synopsis: Barney and his severely overloaded pack mule are prospecting in the mountains, when Barney spots a whole cave lined with gold nuggets.
Comments: This was the only cartoon in which Barney and Benny acted together. Furthermore, Benny was nameless (he never received the name Benny in the cartoons) and was merely a sidekick. The gruff and crusty Barney was modelled after the American actor Wallace Beery (1885-1949), who starred in more than 200 films.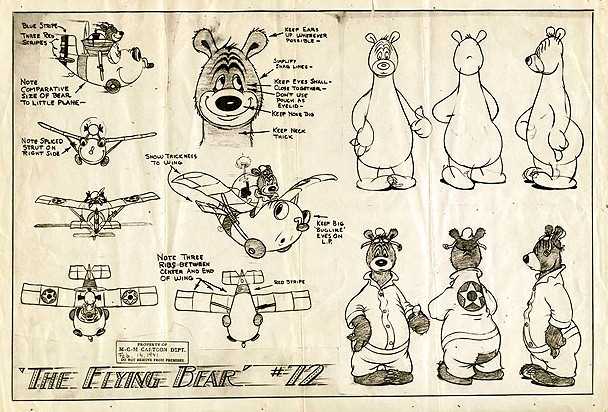 The Flying Bear
1941
Runtime: 9 minutes
Synopsis: Barney is building a cute, anthropomorphic airplane of his own, but it is not that easy to get it up into the air.
Comments: The film is extremely laid back in the sense that nothing much happens. Barney is just going about his business, and making the necessary mishaps for the film to be interesting.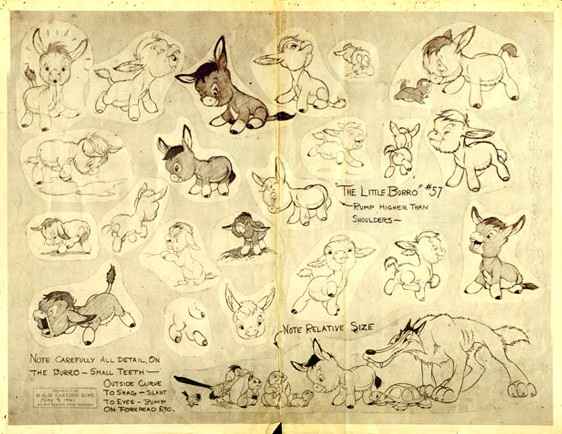 Little Gravel Voice
1942
Runtime: 8 minutes
Synopsis: The little burro is beloved by all the cute woodland creatures, until he opens his mouth and they hear the horrible braying.
Comments: This was the only cartoon starring Benny - and the only one in which he 'spoke'. None of the films with Barney or Benny were 'talkies', i.e. filled with dialogue. Instead their actions spoke for themselves. Also, notice the physical changes in Benny's appearance since his first film; the most striking one is that he now has a snout.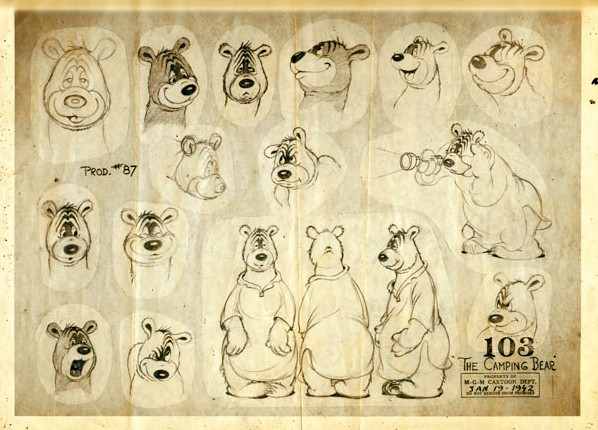 Bah Wilderness
1943
Runtime: 7 minutes
Synopsis: Barney has gone on his first camping trip, but the great - for him unknown - outdoors soon proves a bit too much.
Comments: Another fairly laid back film, in which Barney has foreseeable trouble with the wild animals, the dark and mysterious night, the pouring rain - and his sleeping quarters.
---
| | | |
| --- | --- | --- |
| http://www.cbarks.dk/THEINTERLUDEMODELSHEETS.htm | | Date 2008-07-13 |