The Italian duck stories are said to be more violent, fast paced, and perhaps also scarier than the average Disney duck stories.
This is also true for the Italians' treatment of the above three characters, which Barks rarely used.
How much Barks liked the more helter-skelterish Italian duck universe is not known, but he once commented favourably on one of the new characters in a sketch from 1975 to Romano Scarpa.
In it, he acknowledges one of the many new Italian characters, Brigitta MacBridge. Brigitta's primary function in the stories is to tirelessly trying to court Scrooge.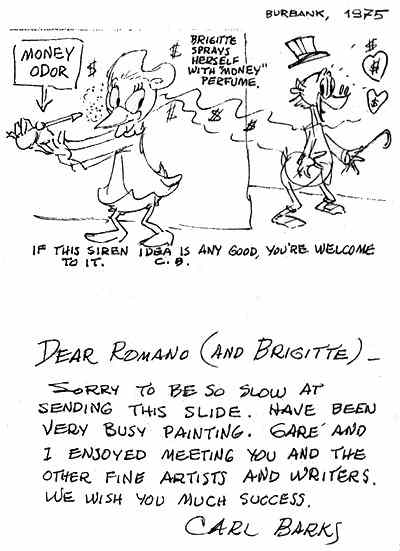 Transcript:
Money odor.
Brigitte sprays herself with 'money' perfume.
If this siren idea is any good, you're welcome to it. C.B.
Dear Romano (and Brigitte) - Sorry to be so slow at sending this slide. Have been very busy painting. Garé and I enjoyed meeting you and the other fine artists and writers. We wish you much success. Carl Barks.
(Barks accidentally misspelled the Italian character's name, which is Brigitta.)