THE APPROACH
Because of Scrooge's success in the comic books Story Department Manager at the Disney Studio, Jack Kenneth Peterson, decided to make a cartoon featuring the character. He later remembered: When we were doing shorts, there was always a need for story ideas, and since Scrooge McDuck had really been developed fully in comics, it was natural that I would contact Carl Barks for help. Peterson had known Barks since 1936, when they worked in the same room as in-betweeners on the Disney cartoons.
After an initial phone call in mid December in which Peterson only got hold of Barks' wife Garé, he sent a letter to Barks on January 4th, 1955, inquiring if he was able to do outside work under the terms of his contract with Whitman (at the time Whitman was the division of Western Publishing that produced the comic books). Peterson was interested in 'a story idea for Scrooge McDuck, which would be suitable for an animated short'.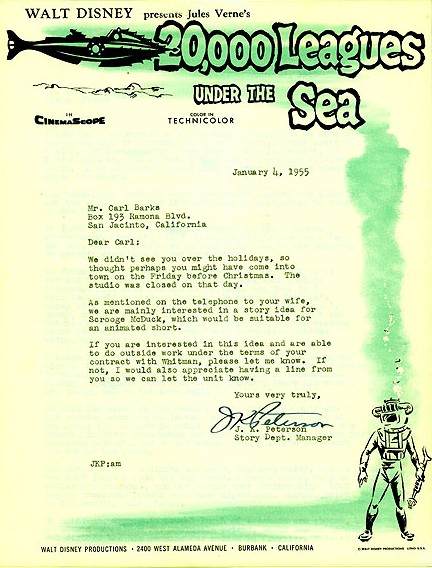 At the time Disney would often use stationery advertising their latest films. The twofold academy award winner 20,000 Leagues under the Sea had just premiered on December 23rd, 1954. Ken Peterson (who had also doubled as an uncredited production assistant on the film) made his first official approach to Barks.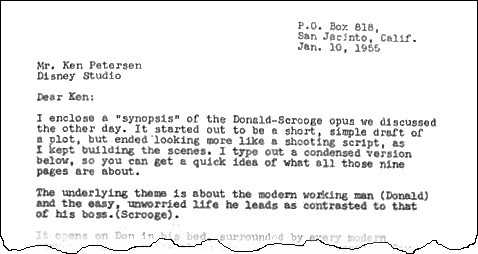 Only 6 days later(!) Barks responded with a 9-page manuscript, of which he provided a condensed version in an accompanying letter. It started:
I enclose a "synopsis" of the Donald-Scrooge opus we discussed the other day. It started out to be a short, simple draft of a plot, but ended looking more like a shooting script, as I kept building the scenes. I type out a condensed version below, so you can get a quick idea of what all those nine pages are about.
The underlying theme is about the modern working man (Donald) and the easy, unworried life he leads as contrasted to that of his boss. (Scrooge).
Then Barks moved on to a fairly detailed raw synopsis, and he ended the letter by writing:
I hope you like the yarn. But if it isn't what you guys think would be a good animation story, I can always use it in the comics. So, don't feel that you have to be shy about sending it back.
The idea for the money-sorting machine is adapted from a cover I drew for the UNCLE SCROOGE magazine. It will appear on the stands in early summer. The original idea was mine, and it now belongs to Disney, anyway.
Hoping your digestions are all in perfect order, I am,
Yours sincerely,
Carl Barks
---
| | | |
| --- | --- | --- |
| http://www.cbarks.dk/theshelvedcartoonapproach.htm | | Date 2008-04-24 |