In 1935 Barks started work at The Disney Studios. After a few months of basic training he was dealt the unappreciated and tedious task of being an in-betweener, i.e. one of many anonymous persons who drew the movement cels between the extremes of an action that the regular animators had finished. But things got better when he was transferred to the Story Department where he soon found himself at work with notables like Harry Reeves and later on Jack Hannah, with whom he went on to have a close working relationship for the rest of his Disney years.
Being in the Story Department meant that Barks would have to dream up stories for the cartoons and lay out the ideas as sketches on a storyboard. Here he learned and perfected two crafts that would come in handy later on in his comics - selection and compression of the best ideas.
Sketches are continuously switched around or even removed from the storyboards in order to create the flow of the story line in the cartoons. Barks did most of the sketches to the cartoons for which he is credited because he was a fast drawer, which was a valuable skill to have when the guys were brainstorming.
During the first years of World War II, the Disney studios were deeply involved with educational and instructive cartoons. This left no room for the creative mind of Barks, so in 1942 he decided to quit the job and start on his own. But the 8 years at Disney's had given him a solid background in storytelling and drawing, two talents in which he would be unchallenged in the many years to come.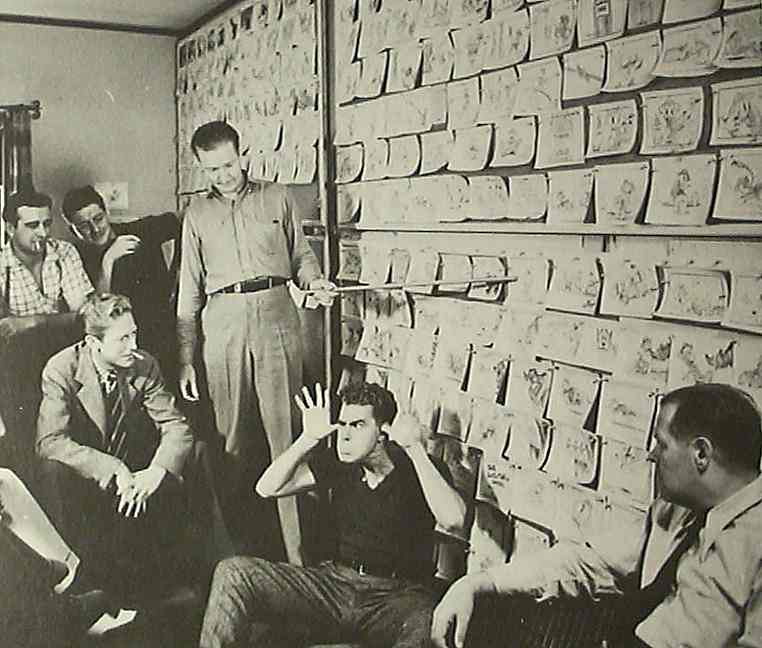 Barks at the storyboard for Good Scouts in 1937. Harry Reeves is clowning.
---
| | | |
| --- | --- | --- |
| http://www.cbarks.dk/THECARTOONS.htm | | Date 2002-04-25 |