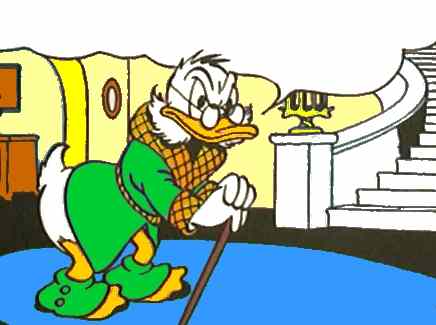 For this Christmas farce Barks needed a rich family member. Scrooge McDuck was born, but in this, his first story he was not fully modelled as Barks did not intend to use him again. However, after his initial instant success his personality, wealth, and general appearance would be defined during the stories that followed. Barks: Scrooge in Christmas on Bear Mountain was only my first idea of a rich, old uncle. I had made him too old and too weak. I discovered later on that I had to make him more active. I could not make an old guy like that do the things I wanted him to do.
Barks developed a host of new elements in his duck stories over the years, and most of them appeared on some sort of a need-to-know basis, meaning that when he needed a certain ingredient in a story he simply invented one! The most famous example was the 'birth' of Scrooge as a purely secondary character who basically appeared in a supporting role in his first story, because Barks needed a rich uncle to play against Donald. Later on Gladstone Gander, the Junior Woodchucks, Gyro Gearloose, the Beagle Boys, and Magica de Spell (just to name a few) were added for the same reason.
Scrooge is one of the least changed characters in Barks' duck universe. Apart from his first appearance as little more than a grumpy uncle he hardly ever changed except for the few times when Barks decided to regulate the length of Donald's and Scrooge's beaks.
In this first story featuring Scrooge we meet him in different clothing throughout; he wears a casual smoking jacket at home (as he also did in FC291 The Magic Hourglass), later on when he is outside he wears a coat and a knitted wool hat somewhat similar to that of Flintheart Glomgold's, and in the end he wears a posh and stylish jacket and a tie.
The most significant change was made later on when his spectacles, which started as wireframe glasses with wires to his ears(!) were changed to the familiar pince-nez.
Otherwise Scrooge rather quickly began to wear the same top hat (I bought this hat for 2 dollars in 1910 and it will still last many years), a woolly broadcloth coat (that I bought at a rummage sale in Scotland in 1902), and spats. Furthermore, he seems to always carry with him the same cane, although we know that he owns a cane factory...