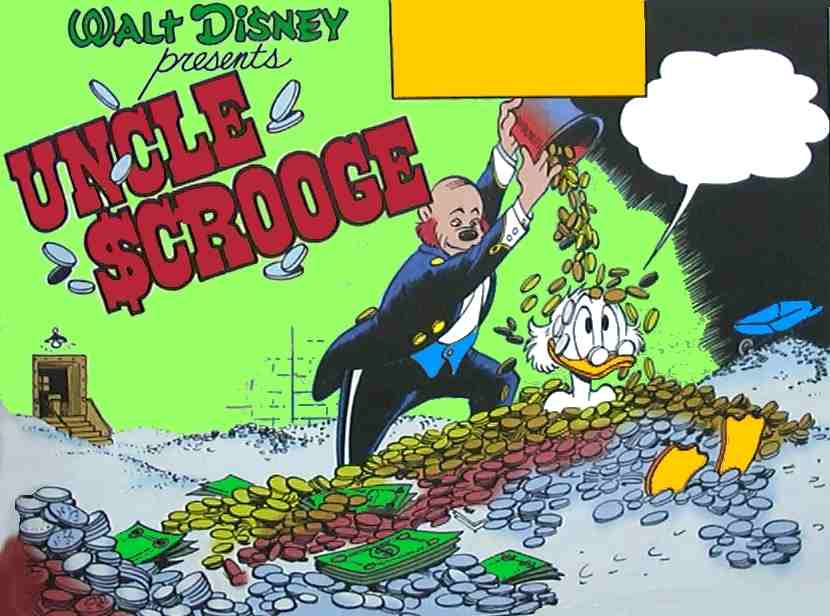 In the 1980s Barks was asked to give titles to some of his untitled adventure stories. He suggested The Seven Cities of Gold. Maybe he inadvertently chose the title from a film release by the same title from 1955?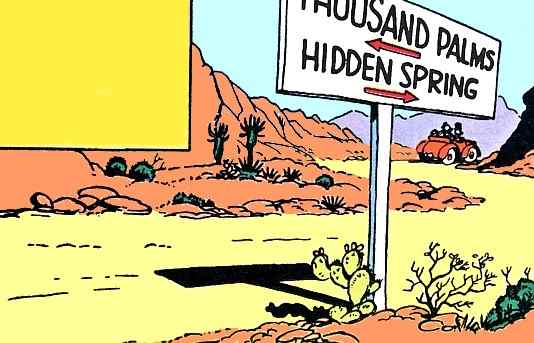 In one single panel Barks divulges the whereabouts for some of the story by drawing a road sign marked Thousand Palms, a well-known resort just north of Indio. Barks lived to the west near the area.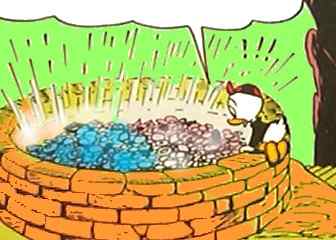 The ducks' findings constitute one of the greatest feat in the history of archaeology, as they find numerous large stone tubs filled with sorted gems such as diamonds, opals, sapphires, rubies, and emeralds...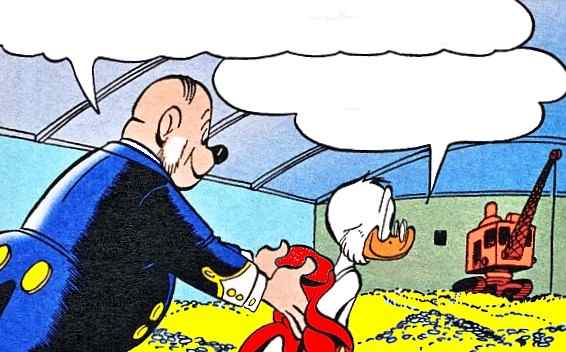 The story offers several pieces of new information about Scrooge: He owns oil wells, railroads, gold mines, farms, factories, steamships, theatres, sawmills, stores, radio stations, canneries, fisheries, race horses, newspapers, auto factories, and peanut wagons.
Also, Barks supplied him with one of his many eloquent word labels to illustrate Scrooge's wealth in a convincing and overpowering way. He is called a fantasticatrillionaire...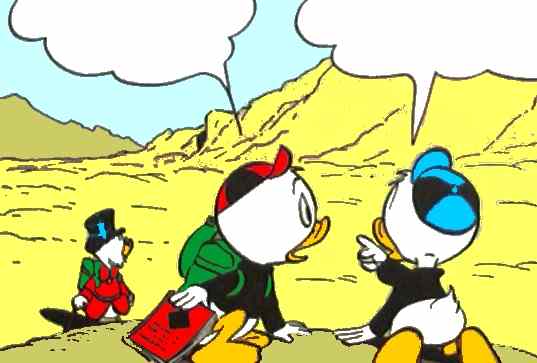 Of course, the nephews brought their Junior Woodchucks Guide Book along to read from. Examples:
On trying to find their way through the Mojave desert: Travelers afoot in hot deserts should set their course toward shade! On finding a Spanish galleon in the sand: ...it might be the 'Lost Ship of the Desert', which has been seen several times in the last centuries. It is believed to be a real ship that is uncovered at times by desert wind storms!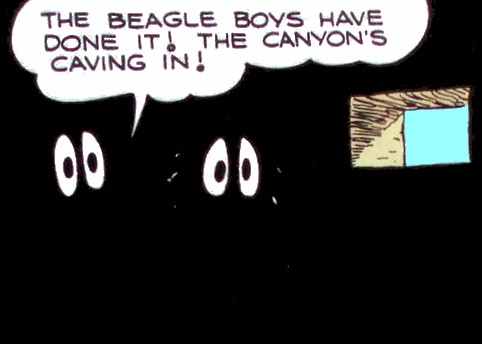 In a few stories Barks used almost totally blackened panels in order to get a message across to the reader. Mostly, he wanted to make sure that the reader was as much 'in the dark' as his characters at a given point!
In this sort of panel Barks was often helped by his wife Garé who always inked the large, black spots (and the dialogue) for him...
Above is an example of these not often seen blotted panels.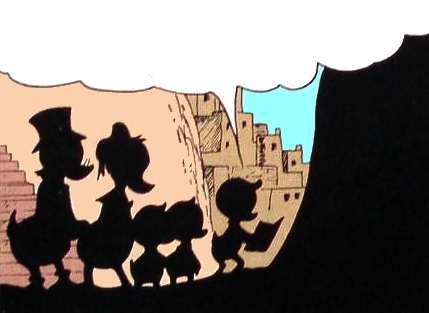 Barks would sometimes experiment with silhouettes, but they were not well received by his publisher Western, as they preferred clear renderings (see more HERE).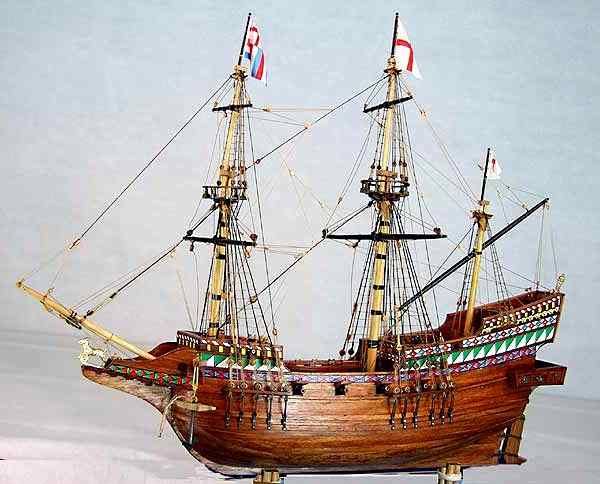 When Barks drew Spanish galleons on a number of occasions he used the British explorer Sir Francis Drake's ship Golden Hind as his reference.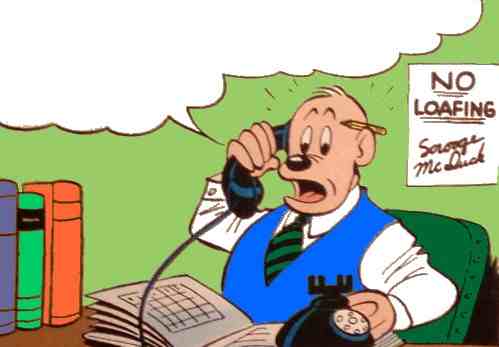 In many stories Barks placed fun written statements in the backgrounds such as this example from the story (see more HERE).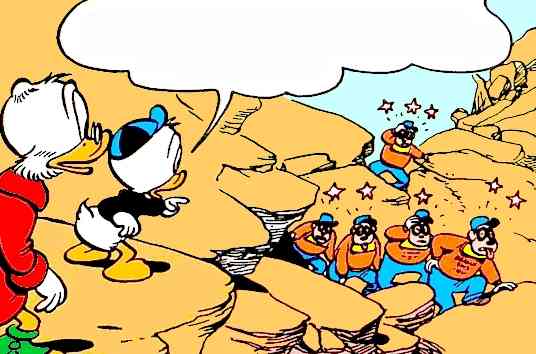 During the story a total of 9 Beagle Boys are seen according to their prison number signs, but only 6 are kicked out of the welfare office, 4 are present at the diner, and 5 are travelling the desert. So how many were really in that story?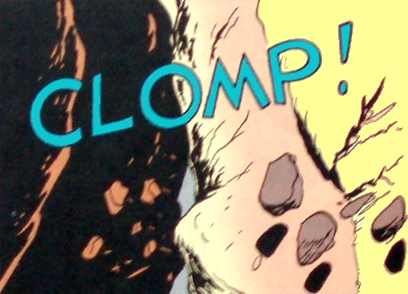 A light graphics panel would typically be one in which no characters are present. In the story Barks made this illustration of the beginning of a rockslide. Notice how he strengthened the actions by adding an 'appropriate' word.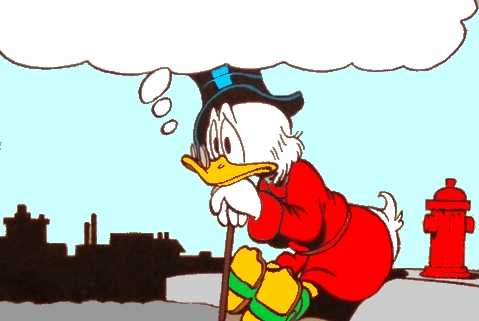 It would seem that Scrooge from time to time suffers from diverse ailments as well as physical or mental predicaments. The first was disclosed in FC0456 Back to the Klondike in which he suffered badly from amnesia. In this story he has depression.