GERRY TANK
Gerry Tank is a retired doctor of medicine who practised in Grants Pass for many years and he is still a prominent member of the community. Gerry Tank was Garé and Carl Barks' physician and close friend until they passed away. Among his numerous achievements is a profile in Who's Who in the World.
Also, see Tank's article on Garé Barks HERE.
Reflections of my time with Carl Barks
Carl Barks was a very private person. He made a point of not having any publicity in the local "Grants Pass Courier", I guess to protect his privacy at home he even had packages delivered to him under another name. I am a retired gynecologist, who, when he first met Gare Barks as a patient had really no idea of who Carl Barks was and to whom Gare was married. After she had been to my office several times I got my first clue as to who Mr. Barks was from my nurse who lived only a few doors from the artists. My nurse told me that Gare's husband was a Donald Duck comic book creator and that Gare was somewhat unhappy that Carl had very little recognition in the United States. I think this is a well recognized fact, since most people credited Walt Disney with the comics rather than the comic's creator.
I paid very little attention to all this until one day, sitting at what we tend to call our library, reading a Donald Duck comic book, I came across a page asking who in the world is Carl Barks. It slowly dawned on me when I associated the name of Gare Barks with Carl Barks that the creator of the numerous characters in the comics lived right here in Grants Pass. Suffice to say, I had an invitation from Gare to visit and one Sunday afternoon, with nothing better to do, my wife and I planned a 30-minute visit. I remember Carl watching a New York Giants football game when we arrived. What was to be a short visit turned into several delightful hours and finally a night of dining out (along with a gift of a signed copy of "Uncle Scrooge: His Life and Times". What was to have been a one time visit turned into a friendship to last his lifetime. This probably was largely due to Gare and my wife Nancy striking up a friendship which Gare pursued.
--- o ---
For a temporary diversion from this story I should give you a layout of his house. All of the corridors and his workspace were filled with lithographs of his painting, memorabilia of his early days and his associations with some of the important people in the industry. At that time he was still working at oils to become lithographs with Gare reviewing the partially finished products. She was very meticulous and if the gold coins of Uncle Scrooges money bin looked like as she called it "mustard" the prepublication product went back for revisions. Probably the most interesting piece of furniture in the house was Carl's Rube Goldberg, Gyro Gearloose drawing easel. It reached from the floor to the ceiling made with particle boards with holes, C clamps, an arm rest to control shaking and whatever artists call the stick to support their arm. There was also the pallet with the huge variety of oil colors.
--- o ---
As time progressed our meetings became more frequent, for the most part to go out to dine. Gare was suffering from emphysema, which worsened over the years. She required an oxygen generator and weekly injections. It was becoming increasingly difficult for Carl to manage to take her to the clinic. Even though I had retired, I offered to visit her weekly and give her the required injections. There were no charges for this but my reimbursement was more than generous. From his private collection of lithographs (and most of them were #7), I was given "Always Another Rainbow". This now hangs with my other lithographs and a serigraph, but my favorite possession is a blue line drawing that he made as a model for "Holiday in Duckburg" It's sort of like DaVinci's line drawings but no mirror writing.
Carl was a very optimistic person and he had a love for Gare that I don't think existed in his first two marriages. Well into his 90's he decided to build a new house and it was geared for several things, especially for Gare. It was a two level house with a chair rail leading to the lower lever and his studio. There he or Gare could ride the chair up or down. A separate bedroom and bath were included so that, if necessary, they might hire a couple to take care of them when that became necessary. There was also a gasoline powered generator on a back porch so that if a power failure occurred, it would kick in automatically and maintain the life support that Gare and her oxygen generator might require.
Unfortunately, problems occurred. Gare had complications that proved fatal. She had lived in her new house for only a few days before she died. Because of her concern for Carl's welfare Gare had contacted a couple that were friends and investors in Barks artwork. They were to occupy their former home (which was only a few feet from the new home). Gare's idea was that this couple would be taking care of Carl during his remaining years. I won't go into the details about this arrangement or the consequences, other than to say that they encouraged Carl to again renew his artistic career. I think they were instrumental in promoting his image with appearances on his birthdays, a grand tour of European capitols and visits to Disney World where he was Grand Marshall for a day. His handprints and signature in cement are also enshrined there. The tour of Europe was made to celebrate Donald Duck's 60th birthday. Somewhere in the planning the name of Don Rosa surfaced. Allegedly someone made defamatory remarks about Rosa supposedly excluding him from participation in the Duck's 60th celebration, this leading to a lawsuit, the legal expenses paid by Carl. It is important to note that Carl was not responsible for the remarks but accepted the responsibility for the legal expenses. It would be years before a rapprochement would occur, mediated by Michael Naiman and myself. There are some nice pictures of each looking at the others comic books. The meeting took place at Carl's house. It was, I think, their first meeting and it went off well. I remember seeing Don riding off with a look of real satisfaction at finally having had the opportunity to meet with the man he was emulating and who he deeply admired.
--- o ---
Life, after the loss of Gare was lonely but shortly thereafter his "keepers" apparently encouraged Carl to begin a new productive life. Don Ault probably has a better recollection of this time than I do, but among events I recall, not necessarily in the proper time frame were the following:
Installation as a "Disney Legend" in the company of Fess Parker, Julie Andrews, Sterling Holloway and another comic artist. 1991
Induction into the "Hall of Fame" of the International Museum of Comic Art.
Featured visitor for a Grand Tour of Europe on Donald's 60th birthday. In Oslo he was presented with "The Order of the Bear" in the hall where Nobel Prizes are presented.
Grand Marshall for a day at Disney World and making a cast of his handprints
Designation as Oregon Citizen of the Year.
--- o ---
For this latter event I was asked if I would drive him to Salem, Oregon (200 miles) where several of his relatives, many of whom he had not seen in years, had gathered. He was presented to the Oregon State Senate where this honor was conferred. A reception, autographs and a visit by the state governor followed this.
This reunion with his relatives resulted in an invitation to come to Washington (the state) to visit. It was tentatively scheduled for the fall and I was to be his driver for a week. I had some second thoughts and trepidations—"what am I going to talk about to this 95+ year old man for 7+days." My fears were unfounded. Carl was so well versed in so many other subjects that I needn't have worried. He had a chance to visit his lone surviving daughter, as well as his grandchildren, and great grandchildren.
Besides the trip to his relatives, I would make myself available when he had a particular desire to do something. As we drove up the coast to Washington he noticed a Navy Aviation Museum housed in a former dirigible hanger. "We must stop here". One time he decided that he would like to see his old homestead one more time (Merrill, Oregon) and to do this by taking the route that his father took when he picked up his new bride in northern California. The road through the mountains may have been OK for horse and buggy but our questioning of state police forced us to take another route. In Merrill there is a small paper called the "Lost River Star" whose editor was preparing an edition dedicated to their most famous citizen. I think there was to be a Carl Barks day annually in Merrill but I don't know if this ever came about. The editor recognized Carl immediately as he entered even though he had never seen him before.
On one occasion Carl had a desire to go to the Oregon coast for fish and chips. It's 80 miles to the coast but well worth the scenic trip. Oregon has one of the most magnificent coastlines and the trip through the redwood forest is always delightful. Trees there have enough circumferences that if you cut one down (prohibited) and polished the stump you would have a substantial dance floor.
--- o ---
There were several glassed in showcases in his living room in which he kept his mementoes. Many were items given to him or sent to him by fans. One that particularly impressed me was a postcard with an intersection sign showing Karl Marx Strasse and Carl Barks Strasse. If this was a gimmick I don't know. Other mementoes graced the stairwell leading down to his studio. These were etchings presented to him by noted Italian comic artists.
Carl had a constant stream of visitors. There was Lidia Cannatella, editor of Zia Paperoni for Disney Italy. There was Frank Stajano from England who brought some presents including a count down clock that was supposed to tick away the time and the number of days to Carl's hundredth birthday. There was Don Ault, English literature professor at the University of Florida, specializing in comic art. There was Harry Fluks from Holland, Michael Naiman and Malcolm Willits from California, Ed Bergen from Illinois and of course the special meeting of and rapprochement with Don Rosa. There were also visits from Bruce Hamilton of "Another Rainbow" out of Arizona, two representatives of Disney Studios gathering Carl's signatures on old comic strips containing his characters and on movie cels and of course John Lustig. I was fortunate because Carl usually invited me to attend. I think he may have felt a little uncomfortable alone with people and wanted another person present to help break the ice and maintain the conversation.
--- o ---
As Carl's problems with his "keepers" increased, so also did his problems with his health. He had an acute emergency that led to hospitalization and an operation. At this time they also did a blood count and diagnosed Carl with lymphoma or leukemia. During our trip we had talked of many things, life, death, religion, news events, philosophy and medical matters. I believe that he hoped possibly to reach the century mark but also indicated that if he had cancer he would not take any radical treatments. With the diagnosis of leukemia he was going to follow this course but relented somewhat when I encouraged him to at least utilize some minor type treatments, and if offered, blood transfusion for his anemia. This he accepted mostly because he had so much unfinished business to clear up before his demise.
Among the joys of our association were his birthdays. I had him set aside March 27th so that Carl, a small circle of friends and myself could gather for dinner and conversation. At some point, and I don't remember when, I got on the mailing list of DCML and I offered his fans the opportunity to email birthday greetings and congratulations which I dutifully printed out and carried to him daily. Mail came in from all corners of the world, many thanking him for forcing them to learn how to read what was in the balloons of his comics. Michael Naiman took over the function the last year or two and with Malcolm Willits delivered the printouts in person. Among Carl's local friends were Alvin and Faye Spears who provided their home for the birthday dinners.
Picsou, I think the French magazine did something special. Apparently they invited school children in France and Belgium to write messages wishing Carl a happy 99th birthday. There must have been more than 100 scribbled letters all put into a neat packet and shipped to Carl. I had hoped that Picsou would mail me a copy of their special edition memorializing Carl, but alas, I don't have it.
--- o ---
Carl, as a child, had had the hard measles (Rubeola) that left him almost deaf. He had several devices in his home to help with listening to music and to allow him to hear television programs. He also required personal help, especially after Gare died. Helen Hunike was his housekeeper and personal aide. Gradually, as he became weaker he required around the clock care to be in his house and Serene Hunicke and a third caretaker were hired. Serene was with him the night he died. I'll not go into the indignities that he suffered in the last few months.
As time passed, Carl's world would begin to shrink. He had a huge house but eventually limited how far he would go. First we bought him an electric chair (not the lethal kind) that would let him get up partially assisted. As he grew weaker he decided that he didn't need all these rooms in his house. He tended to limit himself to his bedroom where he could listen to music, play 3 deck solitaire (his own invention) and rest whenever desired. For his music appreciation I lent Carl my tape playing "boom box" so he could listen to one of his favorites, Perry Como. Despite his problems, if you took his picture he would still be able to bring on that winsome smile.
In his last months Carl did continue to be productive. As noted, Disney representatives came for his autographs on cels and daily Duck scripts which used his characters. There will be some non-Disney artwork that Carl produced which needed his signature. He tended to perk up somewhat when he felt that he was being productive.
--- o ---
Carl and Gare had prepared for the eventuality that befalls all of us. When Gare was alive they had a trust (a legal document which spells out what happens to the assets of the couple). This meant that everything they owned jointly at the time of Gare's death was turned over to the trust (operated by a bank). At that point he had access to these assets to care for his needs. He now developed a new personal trust (since he was again earning money with his drawings). His house contained many of his lithographs along with his memorabilia that now belonged to the trust department of his bank. With Carl's permission, the bank decided to remove most items that were in the trust created by Gare and Carl. This meant taking out all of the lithographs and mementoes to put into climate controlled storehouse for future disposal by auction, distributing the proceeds to the relatives named in his will. What had been a warm and friendly place with its highly decorated walls now became barren. I will always think that the bank could have waited to make its claim on these items.
One thing he wanted to do was thwarted by the trust. Carl had a set of the "Carl Barks Library" which he wanted to donate to the Klamath County Library (the closest city to the small town of Merrill). I was to make the arrangements. It was thwarted because the trust operator claimed that he could not give away what had been in his earlier combined trust. It would have been nice to have a special display of his works in Klamath Falls. Incidentally, one of the last things that he wanted to have remembered was about his education in a one-room schoolhouse to which he rode his horse daily. It is always amazing to me how Carl, mostly self-taught, became such a genius in art and story telling.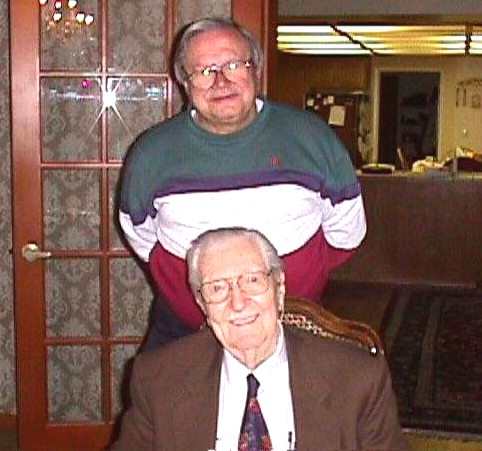 The author and Carl Barks March 27th, 1999
This contribution was written specially for this website. The photo is the personal property of the author and appears here for the first time. © Gerry Tank
---
| | | |
| --- | --- | --- |
| http://www.cbarks.dk/THEMEETINGStank.htm | | Date 2002-12-05 |