BAMBI
After Disney's had begun producing animated feature films all employees were encouraged to contribute ideas for the upcoming ones. All useable ideas were handsomely paid. When Bambi was in the planning stages Barks was working in the main story department at the Disney Studios and he contributed a few gags for the film which was released in 1942.
1940-1941

One of the Bambi staff's ideas was to introduce a squirrel and a chipmunk to supply the film with a few slapstick gags. In one Bambi happens to swallow a bee when grazing in the meadow. The comedy duo hear muffled sounds from the kneeling Bambi's stomach and they run back and forth to his open mouth in order to hear what the offended bee has to say.
Barks and his colleague Charles 'Chuck' Couch wrote and sketched another sequence featuring the duo trying to crack a nut in a tree fork (the original sketches have since been lost). The episode was planned to last for one minute, but it was not used in the final film. Undoubtedly, it was considered, though, because one of the key animators, Kenneth 'Ken' Hultgren, made 9 finished storyboard sketches from the idea (shown here in sequence).
Walt Disney commented on the overall duo idea by stating: I like the screwball attitude with the characters. I think we are getting something that is not just the old type of gag.
But in the end, none of the squirrel/chipmunk ideas were used in the film, presumably because the Laurel and Hardy-like routines were out of character in the more mellow, finished product.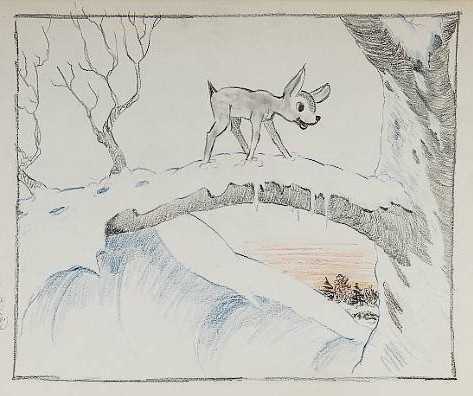 1940-1941
Barks drew a total of 58 storyboard sketches featuring the faun. This one is the most detailed as it is the only one showing Bambi in a real setting with both foreground and background.
1940-1941

Barks was the one who hatched the memorable scene in which the faun encounters an icy lake for the first time in its life and he contributed a series of roughs showing the action. Some of them are shown here (in sequence).
---
| | | |
| --- | --- | --- |
| http://www.cbarks.dk/theadditionalideasb.htm | | Date 2007-06-16 |