SELF-PORTRAITS
Barks made several self-portraits during the years. Here is a selection.

1939 or 1940

1977

1994

The first one was supplied with explanatory text much later when Barks was no longer certain of the year of origin. The second one he sent out with letters to fans. The third one was drawn in Finland during his European tour.

Ah, Retirement! How Sweet it Is!

Barks and the Duck Syndrome

1965

Barks sketched these self-portraits in which he dreamt about his upcoming golden years. The one to the right was made for the fan magazine Funnyworld No. 10.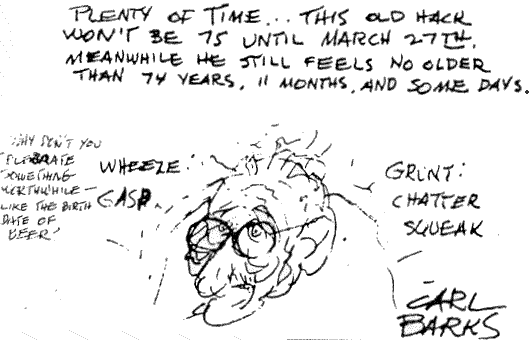 Plenty of time ... this old hack won't be 75 until March 27th, meanwhile he still feels no older than 74 years, 11 months, and some days. - Why don't you celebrate something worthwhile - like the birth date of beer? - Wheeze - Gasp - Grunt - Chatter - Squeak
1976
Sketch sent to Danish artist Freddy Milton.
1980s

Two of several letterheads Barks used for a number of years.
---
| | | |
| --- | --- | --- |
| http://www.cbarks.dk/theadditionalidease.htm | | Date 2007-06-16 |